I miss Tournament of Champions in January 2017. But it's okay, Windy City Open is already begin. So i watch closely her game and realise how powerful her game was. We can see the result from the picture below how for the first round she beat Hania El Hammamy from Egypt and second round with Emily Whitlock from England.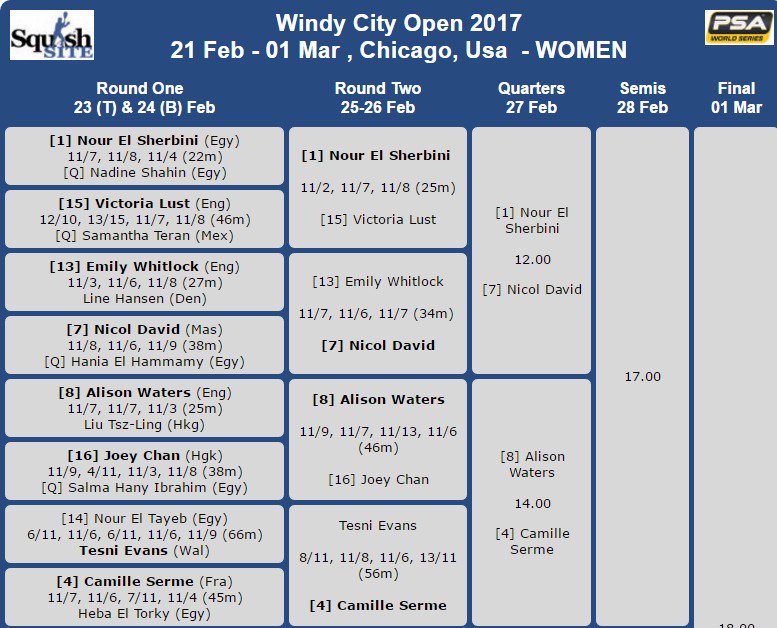 (Picture Credit to Squash Site)
She was the World Champion for Eight Times so it's not impossible to be a Champion again… right?
So, it's only half an hour from now for Nicol start a match with Nour El Sherbini today at 2 pm Chicago Time. I really hope she's ready…
Today match will be tough for her because she will meet the World No. 1 Squash Woman Player. Of course it's tough because she deal with young, Egyptian, current World No.1 player.
But from my observation, based on her performance at previous round… she has chance to beat Sherbini in this match that will start half an hour from now.
Hmmm i'm so freaking nervous to know the result even though they not play a match yet…but i feeling nervous with the outcome. I don't have money to watch Squash TV so just waiting for the result come. I just wonder how she doing in the glass court with tough opponent like Sherbini. This match will really tough for both players. But i really hope she's fine in there.. and smiling even though storming weather in the glass court.
So for today match that will happen any minute right now… i think Nicol David will win the match against Nour El Sherbini at Quarter Final on 27 Feb 2017 on Windy City Open, Chicago. She will make it this time. If she stay focus from the beginning until the game last… I believe she can win this match. She has to believe herself again..
I think she should listen to this song. It's really inspiring in this critical moment.
So… to Datuk Nicol Ann David… this song is for you. You can make it this time… listen to this Hold On from Niki Demar. "All the best and may you win this game".