3.30 am, Malaysia time. I watch this PSA World Tour short highlight on Tweet. Really nervous because i don't know what's happening in that glass court but i bet it pretty furious battle going on now. Few minutes later… i read the result post by Chicago Squash.
Quarter final Match: [1] noursherbini (EGY) bt [7] NicolDavid (MAS) Result: 3-1 Scores: 11-9, 6-11, 11-6, 11-4 (45m) (Pic credit: Chicago Squash)
As is happened. Sherbini won. Nicol lost to her. Oh i am so frustrated right now because i know Nicol give her all out to beat her opponent. But Sherbini knew her movements very well. Ya, Sherbini knew it. She said she had watched Nicol game since she was six years old. So of course she knew all the tactics, skills and technics that Nicol has. She can read Nicol movements in that court.
But Sherbini admit that Nicol gave her difficult time on the match. According to Pharaoh Squash, Sherbini said…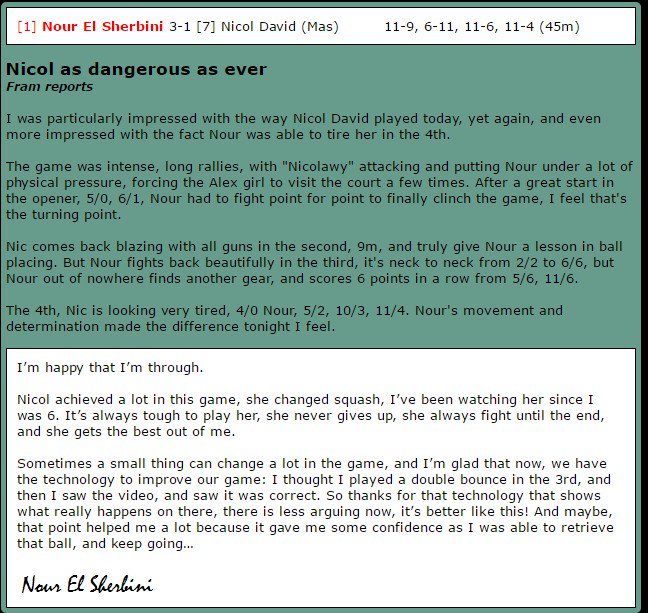 For Nicol, she already give her best in this match. This was among high quality performance she had presented but this was really a tough game with tough opponent. I really proud of her. How she strive for so long in this squash game, i even don't know. It's hard to think.
I even can't imagine how can squash players hit the squashy ball to the wall and catch it back because the game is so fast… super fast. Hmm.. let me think… Err,"i cannot brain, i had the dumb!
So i hope Nicol have better luck next time. She has a chance to win in upcoming tuornaments. She's strong and she's tough. After all she's a Legend. She's already on the top of the world. So no big deal for her. I hope i can see her fight in the coming match.
Me? still here in front of computer drink coffee(smile).
Anyway.. waiting for tomorrow match between Carmille Serme and Nour El Sherbini in Semifinal on 28 Feb at 5 pm Chicago time. Still tough match for both players. I think Carmille Serme has a chance to win this Semi even though it will be going tough fight tomorrow.